Welcome the 2019 Minnesota Age & Disabilities Odyssey Conference ePoster Community Page for Grantees!
What can you do on the community page?
click on each image to jump to the corresponding section
WHAT IS AN EPOSTER?
ePosterBoards are the future of poster presentations! One board consists of a large format, 47-inch flat panel monitor, a stand, a touchscreen Surface tablet, and assorted cables.

MAKE THE MOST OUT OF YOUR EPOSTER PRESENTATION:
*DOWNLOAD THE EPOSTER GUIDELINES BELOW FOR MORE INFO
view the technical demo webinar
We reviewed the following information:

-ePoster Templates
-Formatting Guidelines
-How to make your ePoster visually interesting
-Do's and Don'ts for your ePoster
-How the ePosterBoards will operate on-site

If you were unable to attend this demo, the recording is posted here for everyone to view.
download eposter Templates
STEP 1: Choose a template. The first group have the DHS logo, and the second group have the Live Well at Home logo.
Department of Human Services Templates:
DHS Template 1-
Single Slide
DHS Template 2-
Multiple Slides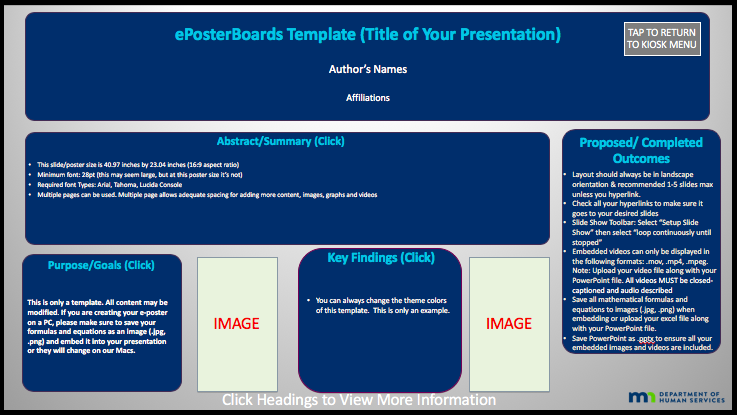 DHS Template 3- Hyperlink Sections
DHS Template 4- Hyperlink Buttons
Live Well at Home Templates:
LWAH Template 1-
Single Slide
LWAH Template 3- Hyperlink Sections
LWAH Template 2-
Multiple Slides
LWAH Template 4- Hyperlink Buttons
download eposter guidelines
STEP 2: Download and read through the guidelines and tips.
Key elements of a good poster

1. Title and organization
The project title should be placed at the top of the poster. The organization's name should be listed beneath the title.
2. Text describing the project
Each poster should include the following information (as appropriate to the type of project): a summary/abstract, purpose, goals, key findings, and proposed/completed outcomes.
3. Visual components
Photos, graphs, figures, tables, and other visual components can help visualize results and tell a story. All visual components should have captions.

Tips

•Keep it simple. Don't overcrowd the display.
•Grantees should think about the key story they want to share with viewers. Designing your poster around this key story will help keep posters clear and viewers engaged.
•Remember to bring your business card to share with attendees.
•Give yourself plenty of time to create your poster. You will need time to create graphics, experiment with text format, and try out all the elements.
LEARN MORE ON OUR YOUTUBE CHANNEL
STEP 3: Upload your ePoster by Tuesday, July 2 at 5PM CDT
ePoster Assignments Database
eposter session & help desk schedule
still have questions regarding the eposters?
Click the 'Contact Us' button at the bottom of the page to chat with us during business hours
(Mon-Fri: 10am - 6pm EST)
OR
Click the button below to send us a message
FOLLOW EPOSTERBOARDS ON SOCIAL MEDIA TO SEE PHOTOS FROM THE event!